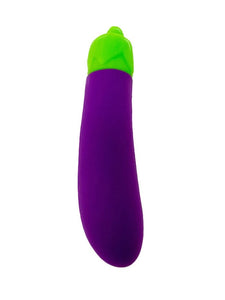 What could be cuter than a cheeky emoji? We ❤ this vibrator that takes its inspiration from the eggplant often used to stand in for "penis" in emoji-speak! This adorable petite external vibe was created by two friends who had a great idea that went viral. Firm silky silicone exterior, this waterproof cutie cycles through 10 vibration settings—just push the top of the eggplant to turn it on, then again to change the kind of stimulation it delivers.
Emojibator Eggplant Vibrator
Purple with Green Silicone
Uses 1 x AAA battery, included.