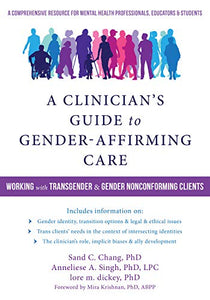 Transgender and gender nonconforming (TNGC) clients have complex mental health concerns, and are more likely than ever to seek out treatment. This comprehensive resource outlines the latest research and recommendations to provide you with the requisite knowledge, skills, and awareness to treat TNGC clients with competent and affirming care.
As you know, TNGC clients have different needs based on who they are in relation to the world. Written by three psychologists who specialize in working with the TGNC population, this important book draws on the perspective that there is no one-size-fits-all approach for working with TNGC clients. It offers interventions tailored to developmental stages and situational factors—for example, cultural intersections such as race, class, and religion.
This book provides up-to-date information on language, etiquette, and appropriate communication and conduct in treating TGNC clients, and discusses the history, cultural context, and ethical and legal issues that can arise in working with gender-diverse individuals in a clinical setting. You'll also find information about informed consent approaches that call for a shift in the role of the mental health provider in the position of assessment and referral for the purposes of gender-affirming medical care (such as hormones, surgery, and other procedures).
As changes in recent transgender health care and insurance coverage have provided increased access for a broader range of consumers, it is essential to understand transgender and gender nonconforming clients' different needs. This book provides practical exercises and skills you can use to help TNGC clients thrive.