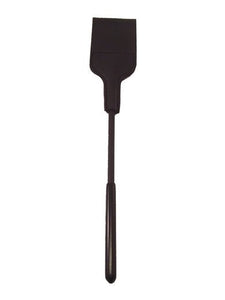 Saddle up for a close encounter of the sensual kind with the Close Encounter Mini Riding Crop. This sweet and sexy ten-inch spanker features a broad tip designed to deliver a stinging slap or playful paddle to your partner's posterior. The covered shaft offers durability and flexibility, allowing you to keep full control while the shorter length allows you to get up close and personal when administering a sinfully sensual spanking during intimate impact play. Ride on!
Close Encounter Mini Riding Crop
Black
Nylon, Polypropylene
10" total length (25.4cm)

Recyclable Packaging/Materials -- When the package and/or material for your toy can be recycled, you can reduce the impact of your purchase on the environment.
Sportsheet, Sportsheets, Sport Sheet, Sport Sheets