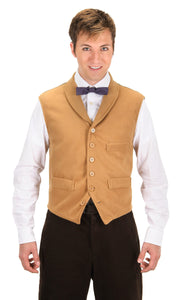 Perfect for costumed events and daily cosplay wear, this NEWT SCAMANDERª Vest comes in two sizes. Button details in the front include Newt ScamanderÕs chronically unbuttoned lower button. With a contrasting twill and satin ribbon cinch back, this 100% polyester faux wool vest is inspired by the original costume design for the film.
S/M: 36-40, Chest 38"-40"  Hip 39"-41"
L/XL: 46"-48", Chest 46"-48"  Hip 45"-49"