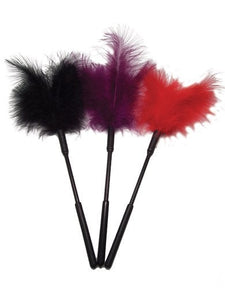 Birds of a feather will do more than flock together with the Flirty Feather Mini Tickler. This titillating tickler features a puff of feathery finery that's perfect for a rousing session of sensation play. Simply run the Feather Tickler across your partner's skin to softly stroke them into sensual submission. A full seven inches long, each Feather Tickler is equipped with a flexible yet sturdy handle to help you get to those hard to reach places. Fun and full of frisky, this Feather Tickler is a great way to get down and flirty.
Flirty Feather Mini Tickler
Soft turkey feathers, ABS plastic, rubber cap
7" total length (17.8cm)
Assorted colors, please let us choose
Recyclable Packaging/Materials -- When the package and/or material for your toy can be recycled, you can reduce the impact of your purchase on the environment.
Sportsheet, Sportsheets, Sport Sheet, Sport Sheets