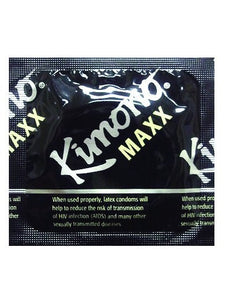 If you like the super-thin feel of Kimono condoms but find their fit to be a little too snug, try the Maxx condoms. Made from the same thin latex, the head of these condoms are 25% wider than regular Kimonos for a comfortable fit. Lubricated cream latex.

Vendor Description
When condom size matters Kimono MAXX is the best of larger size condoms. Offering 25% more head room and 15% more length, Kimono MAXX is easier to put on, comfortable to wear and much stronger.
The first of the larger shaped condoms, Kimono MAXX offers many consumers a better love making experience through extra head room, more length and sheer thinness. Made for those who desire greater comfort, Kimono MAXX is the result of sophisticated Japanese engineering and special selected natural rubber latex processed with state of the art technology. The result is a larger shaped, exceptionally reliable, and incredibly thin condom.