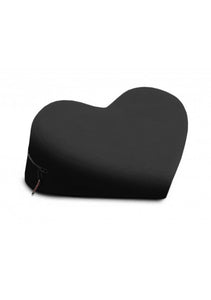 Position yourself for incredibly satisfying, comfortable couple's sex with the Liberator Heart Wedge. Not only does the adorable heart shape (available in red or black) create a romantic backdrop for any dalliance, but the inclined shape opens up a whole new world of easy positioning possibilities: deeper penetration, easy G-spot access, oral sex without neck cramping, and so much more. It's the perfect sex furniture for any couple's or solo adventure (makes for easy reach during masturbation), and great for folks with mobility/joint issues. Plus, the water-resistant, removable cover is machine-washable for easy cleanup.
Note: this item has a one-year extended warranty for breakage or defects.
Liberator® Heart Wedge Positioning Pillow
Furniture grade polyurethane foam
Length-14" x Width-18" (tapers down to 2") x Height-7"
(Length- 33.02cm x Width- 48.26cm (tapers down to 5.08cm) x Height- 17.78cm)
Please Note: There will be a bulk item surcharge of $20 added to your order for extra handling fees when ordering Liberator items. We ship Liberator items from the same zip code as the Liberator facilities.