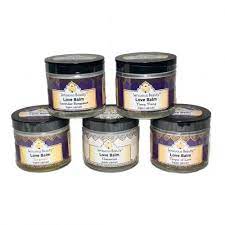 These delectable, versatile lubes, made with organic coconut oil, can be used solo or with partners, for vaginal or anal play, J/O cream, as a slippery yet absorbent massage oil, and even as a relaxing, moisturizing, sweetly-scented bath oil! Great with all types of toy material except latex -- Love Balms are NOT latex-safe and can be used with Nitrile and Polyurethane products, but not latex safer sex supplies. A little goes a long way, and the solid-at-room-temp coconut oil will not go rancid like other vegetable oil-based products. It completely liquifies at 76 degrees, so as soon as you apply it to warm flesh, it starts moisturizing and lubricating!
Lavender Bergamot Ingredients: organic coconut oil, organic lavender essential oil, vitamin E and pure essential oils of organic bergamot and organic or wildcrafted myrrh.

Tropic of Love Ingredients: organic virgin coconut oil, vitamin E, organic jojoba, alkanet infusion, pure organic essential oil of sweet orange and stevia leaf extract.