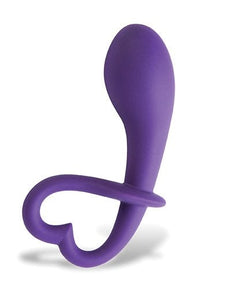 We triple-dog-dare you not to enjoy this petite pleasure plug! Its shape and size are perfect for beginners to anal play though more experienced users will appreciate Dare as a warm up or when worn during partner sex. Made of silky supple silicone Dare is easy to insert and has a curved tip for on-the-spot pleasure. The heart-shaped handle not only allows great control during play, it is a cleverly disguised safety ring that fits comfortably between cheeks during play and makes Dare easy to remove. Made of body-safe silicone this plug can easily be cleaned with warm soapy water.
Lovelife Dare Anal Plug by OhMiBod
Purple Silicone
3.9" x 1.1" (9.8cm x 2.8cm)


Please Note: This item is not eligible for discounts or promotions.