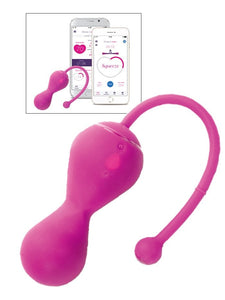 Our innovative friends at OhMiBod are back, this time to make sure your PC muscles get an optimal workout. This new Bluetooth app-enabled silicone kegel exerciser has a built-in sensor measuring pelvic floor muscle strength. Waterproof and easy to insert—a small teardrop shape sits atop a larger one, offering a comfortable fit. Winner of the Best of CES 2016—and trust us, the Consumer Electronics Show offers a lot of competition!— Krush lets you know how your exercise regimen is progressing with vibratory feedback, plus there's an app for it, of course! Called tasl (The Art and Science of Love), the app is compatible with Bluetooth 4.0 devices, iOS and Android. Tasl offers pelvic floor training courses as well as real-time visual feedback of pc muscle activity, voice-guided training, goal setting and rewards—your very own personal fitness trainer!
Lovelife Krush Smart Kegel Exerciser
Pink Silicone
Sensor and Bluetooth rechargeable Kegel
Strong motor for deep vibrations
Free Android and iOS "tasl" App
White satin privacy pouch
USB charging cord

Product Features:
Built-in sensor measuring pelvic floor muscle strength
Built-in motor for haptic training feedback and pleasure
Body-safe silicone
Waterproof
USB rechargeable
One-year manufacturer's warranty

TASL App Features:
Quick Start Guide
Pelvic Training Courses
Voice-Guided Training
Exercise Activity Training
Goal Setting and Rewards
App locking feature for extra security
Android Users: search for "TASL the art and science of love" on the Google Play store
Please Note: This item is not eligible for discounts or promotions.