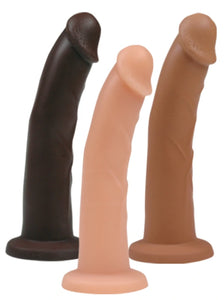 Expert sensual stimulation is yours to savor with the Maven Silicone Dildo from Pleasure Works Wholesale. Designed with meticulous attention to detail, the Maven offers a curving, vein-textured shaft and a sculpted head for a highly realistic erotic experience. Substantially-sized and flexible, the Maven provides a little extra girth making it perfect for those who enjoy the sensation of fullness during their intimate adventures. The wide base makes it harness-compatible for strap on play, and the waterproof construction makes for easy care and cleaning. Soft, supple and sizeable, the Maven is sure to be the hallmark of your sensual collection.
About Firm-core:
PleasureWorks® knows you like it hard… and soft! So we're bringing you both at once with our sexy and squeezable firm-core dildo line. Enjoy 100% quality silicone harness-compatible toys with a more lifelike feel than most silicone can offer! Whether you're looking for a very realistic dildo or simply love the comfort of a softer and more flexible exterior, you'll love the way the solid inner core gives the rigidity you want from silicone, offering fullness and sensation, while the skin-like exterior offers a smoother feel. Warms to body temperature during use, great with vibrations, easy to clean with mild soap and water, and hand crafted in the USA!

Please note: Dual density silicone can be a little "tacky" on the surface, a property of the much-softer-than usual silicone used on the outside, though once your toys is lubed up, that feeling reduces. We recommend dusting with cornstarch after washing to restore smoothness.
Maven Silicone Dildo
Firm-Core Silicone (Dual-Density)
Harness-compatible
7 3/4" x 1 5/8" diameter (19.7cm x 4.1cm)
Note: We are proud to proclaim that each one of these dildos are individually hand crafted right here in the United States. Because these items are hand mixed & handmade, there could be slight color variations from what is pictured.
Body-safe -- Sex toys are made from many different materials, with varying amounts of information available about them, and many have not been tested for safety. We always choose better-quality items, and we give special attention to those we know to be safer.
Made in the USA -- Many sex toy and products are produced overseas. Choosing one that's manufactured and assembled in the United States reduces shipping and has a lower carbon footprint.
Recyclable Packaging/Materials -- When the package and/or material for your toy can be recycled, you can reduce the impact of your purchase on the environment.
Learn about our Ecorotic® Rating Criteria.