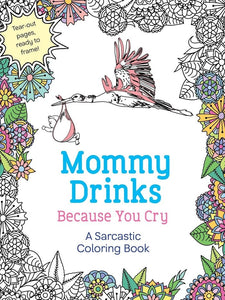 Mommy Drinks Because You Cry: A Sarcastic Coloring Book
by Hannah Caner

Pull Mommy back from the edge with this irreverent adult coloring book!

MOMMY DRINKS BECAUSE YOU CRY is the adult coloring book for the delightfully impolite. For the rare moments you have to yourself, enjoy the calming act of coloring with a little dose of sass. This collection of beautiful designs and fun illustrations are paired with the very best of all our worst thoughts, from "I child-proofed my house, but they still get in," to "Home is where the vodka is." Each hilariously captioned design is printed on sturdy, tear-out pages perfect for amusing decoration or passive-aggressive gift-giving. When you want to unwind with coloring but aren't in the mood to embrace sunshine and daisies, MOMMY DRINKS BECAUSE YOU CRY is the perfect adult coloring book to let you speak your native sarcasm! 64 pages, 2016.