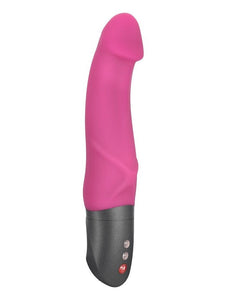 Mr. Boss Battery+ Hybrid Vibrator
Modeled after Big Boss but with a slenderer size, the semi-realistic Mr Boss features a firm yet flexible body with subtle vein-like texturing on the shaft for added stimulation during use. The pronounced head offers targeted G-spot pleasure as well. The intuitive control buttons located at the bottom of the shaft allow you to easily find your favorite setting. Mr Boss has 4 levels of intensity and 6 patterns of strong deep vibrations to choose from. It comes complete with a travel lock and LED charge indicator light. The Battery + technology is an entirely new way to enhance your vibrator play. It's a hybrid vibrator that works both with regular batteries or, with the additional Hybrid Charging Kit, these vibrators become rechargeable. You choose. In addition, you enjoy steady power and vibration through the end of the battery charge. No more slowly decreasing in power during play.
Batteries are not included. Hybrid Charging Kit is sold separately.
All Fun Factory toys are made in Germany and designed, produced and packaged under one roof, giving them one of the smallest carbon footprints in manufacturing. Plus they're regulated to ensure products and materials comply with EU standards for safety, health& environmental impact.

How to use:
Press FUN button for ½ second to turn on. Motor starts at medium power.
Click FUN button to turn off immediately.
– button for lower intensity, + button for higher intensity & rhythm settings.
When in rhythm setting you & want to return to steady vibration, press – button.

Travel Lock
Lock: press & hold - & FUN simultaneously
Unlock: press & hold + & FUN simultaneously
Note: This product is not eligible for discounts or promotions
Product Video