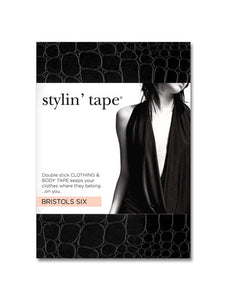 Show skin and undergarments only on purpose with your new favorite necessary accessory! Not an exhibitionist? Stylin' Tape has you covered. This high-quality double-stick fashion and body tape controls every day outfits and red-carpet-worthy styles alike. That embarrassing bend-and-flash when wearing deep-V tops is history. Get a hold on strapless dresses that won't stay up. Say so long to slipping straps. Stylin' Tape does all this and more! The three exclusive widths are the secret to keeping any garment where you want it.

Each pack contains 32 pieces per envelope:
18 thin strips (1/4" x 3") for lightweight fabrics that need to flow;
10 medium strips (1/2" x 3") to secure low-cut necklines and slipping straps;
and 4 wide strips (1" x 3") for better hold on strapless bras, tops and dresses.

Made from the finest grade medical adhesives, Stylin' Tape won't pucker, damage or leave residue on your favorite fabric, and the clear, skin-safe adhesive stretches so it won't pop off. It comes packaged in a stylish and discreet faux-snakeskin envelope to keep tape clean and protected in any purse. Apply to clean, dry skin and wear 6-8 hours max. Saving the world one wardrobe malfunction at a time, Stylin' Tape keeps your clothes where they belong – on you!