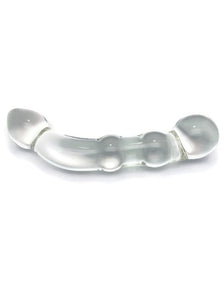 Explode into a whole new universe of sensual stimulation with the Nova Glass Dildo. The beautiful glass dildo offers double the sensation through its double-ended design. One end features a rounded knob and two ridges on a straight shaft for textured titillation while the tapered bead on the other end is curved gently inward, putting it in perfect g–spotting position. Carefully crafted from borosilicate glass, the Nova holds temperature well, and can be warmed or cooled for sensation play and is easily cleaned after use. Each handmade Nova varies from one to the next, making each a unique pleasure object specifically designed for your intimate enjoyment alone or with a partner. Smooth, sleek and superbly sexy, the Nova Glass Dildo is destined to be a star in your erotic adventures.
ALL glass items vary in size -- length and width -- due to them being handmade items.
Clear Borosilicate Glass.
7 ½" x 1" (19cm x 2.5cm) (each piece is made individually and may vary slightly)
Our buyers work directly with independent glassblowers working in the United States to create the pieces available on our website and in our stores. Cottage-industry artisans who make erotic products in glass take extra care as they know these items will be used as sex toys. They bring their superior processes, skill, and knowledge of materials to the manufacturing of these useable art objects making sure there are no uncomfortable ridges or imperfections that might lead to breakage. The result of this care and craft is a range of products we are proud to offer - elegant, sensually pleasing, and safe to use. As always, care should be taken not to drop glass toys on a hard surface; if your dildo or plug is dropped, knocked against something rigid, or chipped, please do not continue to use it for insertion. But don't fret - it's still a beautiful, sexy, objet d'art!