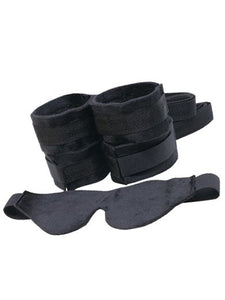 Explore the eroticism of BDSM with the Our First Bondage Kit. This kit offers everything you need for a causal introduction to bondage – two sets of restraints for wrists and ankles, complete with long ties that allow you to bind your partner to the bed, a chair or anywhere your sensual adventure takes you. Kit also features a silky soft blindfold to heighten anticipation during your pleasure play. Ideal for those curious about a darker shade of desire, this kit makes an excellent first foray into the realm of kink.
Our First Bondage Kit
Black
Includes four wrist/ankle straps with 44" (111.7cm) ties and velcro closure, and one fabric blindfold
Velboa fabric, velcro, polypropylene webbing, and elastic

Recyclable Packaging/Materials -- When the package and/or material for your toy can be recycled, you can reduce the impact of your purchase on the environment.
Sportsheet, Sportsheets, Sport Sheet, Sport Sheets