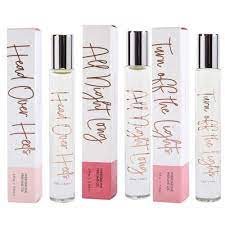 Your mysterious allure is enhanced by these deliciously-scented, pheromone-infused perfume oils! Take them with you anywhere--the attractive little glass tube with roller ball applicator holds .24 fl oz and fits easily into clutch or purse. Makes a lovely gift--for a friend, or for yourself! To use, apply to pulse points – chest, neck, wrist, inner elbow and shoulder -- and the formula will blend with your skin pH, creating a one-of-a-kind fragrance unique to you. Apply the perfume onto dry skin, preferably after a scent-free shower--the fragrance needs to mix with your own chemistry to reveal the scent's natural notes. Body heat will release the fragrance for up to eight hours after application. Paraben-free; not tested on animals. Travel-friendly size.
Choose from three fragrances:

• Head Over Heels: light fruity, floral fragrance Top Notes: Mandarin, Lemon, Sweet Osmanthus and Mimosa Mid Notes: Apple, Fresh Melon Accord. Base Notes: Sandalwood, Patchouli & Sweet Amber.

• Turn Off the Lights: medium floral fragrance Top Notes: Natural Mandarin, Fresh Bergamot, Melon & Pineapple Mid Notes: Coconut, Strawberry, Gardenia, Jasmine & Marine Accord Base Notes: Musk, Sandalwood, Patchouli, Vanilla & Tonka.

• All Night Long: subtle but rich fragrance Top Notes: Orange, Raspberry & Peony Mid Notes: Tropical Orchid, Lychee & Black Rose Base Notes: Dry notes of Sweet Amber, Caramel, Vanilla & Woody Amber.

Ingredients: : Glycine Soja (Soybean) Oil, Isopropyl Palmitate, Fragrance, Caprylic/Capric Triglyceride, Helianthus Annuus (Sunflower) Seed Oil, Prunus Dulcis (Sweet Almond) Oil, Tocopherol (Vitamin E), Retinyl Palmitate (Vitamin A), Zea Mays (Corn) Oil, Reconstituted Andronone, Copulandrone, Copuline-alike (Parfum). The last three ingredients are synthetically derived pheromones designed to enhance sexual attraction. Sourced from Italy.