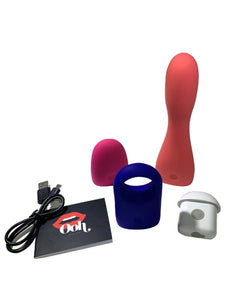 Whether you're a vibrator beginner curious about various styles, choosing a gift, or just a fan of getting your money's worth, Ooh by Je Joue has created a kit for you! Combining their three sleeves with the Ooh rechargeable motor, this affordable vibe set gives you three ways to play in one: Switch the differently-shaped sleeves onto the removable motor and experience external, internal, or penis ring fun, as you like it! These three toys give you everything you need for versatile, pleasurable solo or couple-based play.
Each kit includes the large motor and USB charger plus cord as well as three toy shapes--Pebble, Classic and Cock Ring--in two color options.
Pebble is a powerful, petite external vibe that is easy to hold during penetrative sex and a pleasure to play with solo. 2.33" x 1.77" wide x 1.01" deep.
Classic is a smooth contoured vibrator with a bulbous end, adding sensation when used internally. 6.25" x 1.3".
The flexible Cock Ring fits around the penis (or fingers or another toy), great for stimulating a partner during penetrative sex. 3" x 1.75", stretches from 1.25" up to 3" in diameter.
With a removable motor that powers all three toys and makes it a snap to charge and clean, the Play & Please motor features five rumbly vibration modes – three speeds and two patterns. The toy attachments snap easily onto the motor, and when you want to clean up or change to a different shape, simply press on the arrows on each side to release it.