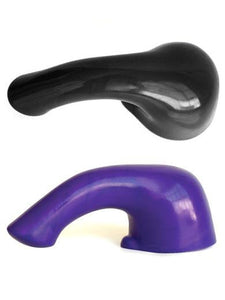 Enhance the magic of your Magic Wand with the Pop Tops Deluxe G-Spotter Attachment by Pleasure Works Wholesale.  This silicone Pop Top features a protruding dildo ideal for insertion with a gentle curve that puts the flattened end in perfect g-spotting position. Soft and supple, the G-Spotter is designed to fit snugly over the head of the Magic Wand for a secure hold during both vaginal penetration and anal play.  The sleek silicone feels silky against the skin and is non-porous for easy cleaning after use.  Available in two colors, the Pop Tops Deluxe G-Spotter for the Magic Wand is an es-sensual sexcessory to your times of passion!
Insertable: 5" long x 1 3/8" diameter; Total length: 6 3/4" long x 3" Wide x 3" Height
(Insertable: 12.7cm long x 3.8cm diameter, Total length: 17.14cm Long x 7.62cm Wide x 7.62cm Height)
Awards & Recognition
Nominated 2012 AVN Awards "Best Sex Toy Accessory"
Note: We are proud  that each one of these dildos are individually hand crafted right here in the United States. Because these items are hand mixed & handmade, there could be slight color variations from what is pictured.