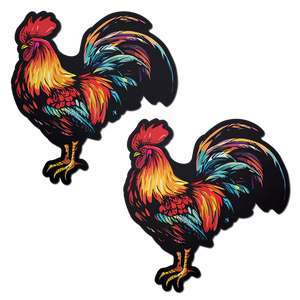 Cock: Colorful Rooster Chicken Nipple Pasties by Pastease
Cock-a-doodle-doooo!! 🐓 Don the flirtatiously feathered cock that will have you crowing with delight! These unique Pastease showcase the vibrant silhouette of a proud, strutting rooster, displaying its colorful plumage in all its glory. Give a playful wink with these bold and girthy Pastease that are sure to turn heads and spark conversations to any who might behold.  Cover up in these colorful cocks and strut with pride!

Dimensions: 3.3 x 3.5"
Coverage: 1.75"