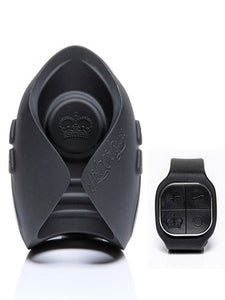 Improving on an already-innovative vibrating toy, Pulse Solo Lux fits in the palm of the hand and can stimulate the penis whether it's flaccid or erect, with mechanics that grip and grind--so less stroking results in more sensation! Control Lux via a sleek and modern new wireless wristwatch-style remote and change the settings without stopping the fun. One of the more intuitive penis masturbators ever created, the Pulse Solo Lux is 100% waterproof and can be used with or without lubrication--experiment to find the groove that best suits your preferences. The unique, patented PulsePlate™ directly stimulates the frenulum with high-amplitude oscillations (rather than low-amplitude vibrations)--the Lux works best when the PulsePlate is placed directly under the frenulum. Whether you're on your back or grinding on top, this product works hard so you don't have to, with a pleasurable sliding motion that simulates the penetration. When combined with the multiple vibration patterns, this sleeve is sure to get you pumped--it sports a nine-speed oscillator plus five vibration modes with adjustable frequency. Also featuring a sensor that directs the motor to compensate when pressure is put on the PulsePlate. With a max power of 4450 rpms, the Solo Lux rocks their strongest pulse yet! The wings on either side of Lux expand, so people with a range of penis sizes can use it comfortably and pleasurably. Great for hands-free use! When grinding on top, the wings keep the penis centered in the canal and help keep the frenulum against the inner wall where sensation is strongest. An independent on/off button on one side can be held down two seconds to turn on/off; on other side of the toy, - & + button gives you intensity control. Try the Turbo Mode function: press and hold the + button for three seconds to jump to level 10 no matter which level you are currently on!

Even If you're in a self-induced 'Pulse solo daze' and forget to take the arm band controller off your wrist, anyone passing by would be hard-pressed to differentiate it from the latest piece of technology. The rechargeable Li-ion 3.7v battery powers up via magnetic USB charger (included). Charge for 3 hours before use; Lux will run for up to one hour, depending on the intensity level you choose. A handy button on the charger shows red when charging, green when fully charged. One-year warranty against defect.
Please Note: This item is not eligible for discounts or promotions.