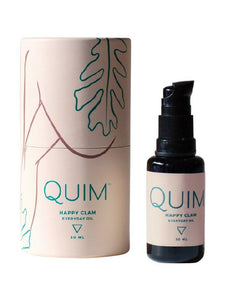 Up your self-care routine with Happy Clam Oil – it's like eye cream, but for your vulva! The makers of Happy Clam Oil have developed an oil for external moisturizing and everyday care. With 1.5-2 mg of soothing CBD oil (crafted with full spectrum distillate from organically grown hemp) every 3-5 pumps, you can use Happy Clam after sex play, after bathing, before bedtime, when PMSing or menstruating, or anytime your vulva is in need of some TLC. 30mL.

Ingredients include:
CBD has topical effects and is non-psychoactive. CBD has been shown to help moisturize delicate skin and alleviate inflammation and pain.
Tea Tree is an essential oil some think of as Mother Nature's antifungal and antiseptic.
Damiana is a plant that has been touted to help increase sexual arousal and stamina, increase the frequency of orgasms, and reduce vaginal dryness.
Violet has historically been used topically as a circulatory stimulant as well as to soothe dry or chafed skin.
Apricot Kernel Oil contains gamma linoleic acid which can help support skin health. It also contains Vitamin A and E, and is known to help soothe irritated skin.

Please note: Oils are not compatible with latex condoms; if you use this product before sex or as part of your regular routine, you should use non-latex condoms. If breastfeeding or pregnant, consult with your physician before using Happy Clam Oil. If you have a history of allergy or irritation to any of these ingredients, do not use; if you develop symptoms of irritation, discontinue use. Not intended for treatment of medical conditions.

We recommend doing a skin test before beginning daily use.