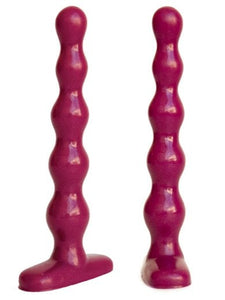 Explore new sensations or enhance your pleasure with this seamless anal toy. Bead-shaped design for extra stimulation -- withdraw the beads one at a time to intensify orgasm! Slim enough for anal beginners and smaller at the tip, its size gradually increases towards the base. Great for those experimenting with anal play and fans of anal beads, with a base designed to be comfortably worn.
Romeo Silicone Anal Toy
Merlot Silicone
6" by 1" (15.2 cm x 2.5 cm)
Please refer to our Returns Policy for this item.
Note: We are proud to proclaim that each one of these dildos are individually hand crafted right here in the United States. Because these items are hand mixed & handmade, there could be slight color variations from what is pictured.
Body-safe -- Sex toys are made from many different materials, with varying amounts of information available about them, and many have not been tested for safety. We always choose better-quality items, and we give special attention to those we know to be safer.
Made in the USA -- Many sex toy and products are produced overseas. Choosing one that's manufactured and assembled in the United States reduces shipping and has a lower carbon footprint.
Learn about our Ecorotic® Rating Criteria.