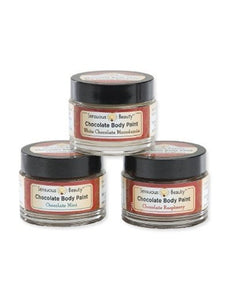 Once you taste this all decadent, natural, gourmet body paint, you'll want to get out the ice cream -- but we suggest you paint it onto your lover instead! Deliciously-enhanced chocolate paint melts at body temperature and is a tasty thrill to lick off. These natural delights use some organic as well as natural ingredients. These taste delicious and are made by a company that creates their products with love for those who will use them as well as with love for the environment. Refrigerate after opening! Three delicious flavors to choose from, or try them all. 
An Ecorotic™ Green Sex product choice, packaged in recyclable glass (1.7 fl. oz.) jars.
Ingredients:
Mint Chocolate:
W hite and milk chocolate, organic canola oil, organic palm oil shortening, vanilla extract and pure essential oil of peppermint.

Chocolate Raspberry:
White and milk chocolate, organic canola oil, organic palm oil shortening and powdered raspberries.

White Chocolate & Macadamia:
White chocolate, organic canola oil, macadamia butter.
Body-safe -- Sex toys are made from many different materials, with varying amounts of information available about them, and many have not been tested for safety. We always choose better-quality items, and we give special attention to those we know to be safer.
Animal product-free -- You might be surprised at how many products contain animal products. You can be sure that items that earn this leaf aren't made with any.
Natural ingredients -- More products, especially lubricants, are being made from natural ingredients. Less processing and fewer artificial materials means more ecorotic®.
Recyclable Packaging/Materials -- When the package and/or material for your toy can be recycled, you can reduce the impact of your purchase on the environment.
Made in the USA -- Many sex toy and products are produced overseas. Choosing one that's manufactured and assembled in the United States reduces shipping and has a lower carbon footprint.
Learn about our Ecorotic® Rating Criteria.