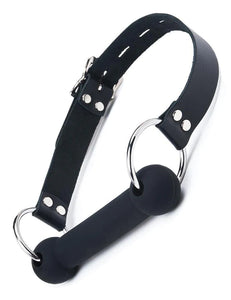 Don't you hate it when your submissive gets too chatty? Punish them into silence with this Silicone Bit Gag, available in 3 different color combinations (both complementary and contrasting straps and bits).
Made of high-quality, soft silicone, the bit gag will fit easily between your partner's teeth; when you're done, it's entirely washable. (We recommend warm water and mild soap or a commercial cleaner for the bit and hardware.)
With adjustable straps, the gag fits most wearers and the strong locking clasp ensures that once the gag is in place, it won't go anywhere until you're done. Equipped with multiple attachment points, you'll find this to be the perfect all-around, best-in-show accessory for your restraint needs and whimsies.
Ideal for… submissives, submissive training, slave training, gag fetish, bondage play, BDSM.
Product Details:
• Available in 3 different strap and bit gag color combinations
• Strap adjusts 17-22" (43-56cm)
• Bit gag diameter: .8" (2cm)
• Weight: 6 oz
• Locking buckle
• Materials: Medical grade silicone bit, leather straps, nickel-plated hardware