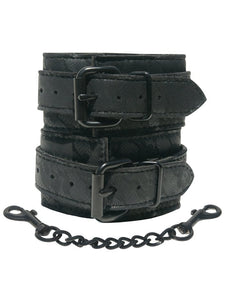 These pretty, lacy cuffs match the Midnight Lace paddle and blindfold (just in case you're the kind of exacting top that wants everything to match!). The restraint set includes two fabric bondage cuffs in a subtle lace print; designed with buckles for a secure fit, bind them together with a chain with clips on each end (included). Perfect for beginners looking to try something new, people desiring bondage on a budget, or those who want a light set of restraints for travel… not to mention fans of sexy black lace.
Sincerely Lace Cuffs
Fabric restraint set with a subtle lace print
The cuffs have buckles for a secure fit as well as a chain with two clips on each end to bind them together.
28% polyethylene, 28% polyester, 27% polyurethane, 16% nickel-free metal, 1% spandex