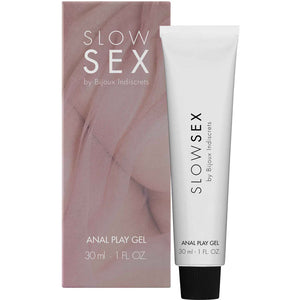 Slow Sex Anal Play Gel is water-based, so even taboos slide away! Whether you're an expert or beginner, it is super important to hydrate the area before any anal play. This gel contains arnica, chamomile and aloe vera which increase hydration and anal elasticity, reducing friction during penetration. Plus, it tastes and smells amazing...mmmm coconut!
Compatible with toys and condoms.
Water-based. Contains aloe vera for maximum hydration!
Chamomile and arnica: a relaxing effect to improve the elasticity of your skin.
Water based.
Coconut aroma.
Sweet flavor.
How to use it?
Apply a little gel directly to the anus or your fingers and rub in.
Any tips?
Use alongside a quality lubricant. The anus is not self-lubricating, so after hydrating it's a good idea to use silicone-based lubricant to make the fun last as long as you'd like.
---
WHAT IS ANAL PLAY GEL?
It is super important to hydrate the area before any anal play, whether you're a certified expert or are only just getting started. This water-based gel contains a combination of soothing and hydrating ingredients that not only reduce friction but prepare the area for play.
HOW DOES IT WORK?
Unlike the vagina, the anus does not self-lubricate when we are aroused. This water-based gel hydrates the rectal mucosa (inner lining of the anus) so that it increases in volume and allows the sphincters to expand. Slow Sex added arnica, chamomile and aloe vera — natural ingredients that soothe the area and increase that much-needed hydration.
AM I IN FOR A WIN?
Without a doubt! This gel comes in an irresistible coconut aroma with a mild, sweet taste.
TIP: Add a quality lubricant to the mix. When the rectal mucosa is hydrated (thanks to the water base and aloe vera), a quality lubricant will help to prolong the fun.
---
Ingredients: Glycerin, Aqua (Water), Aloe Barbadensis (Aloe Vera) Leaf Juice, Chamomilla Recutita (Chamomille) Flower Extract, Arnica Montana (Arnica) Flower Extract, Xanthan Gum, Carbomer, Aroma (Flavour), Bisabolol, Maltodextrin, Sodium Saccharin.