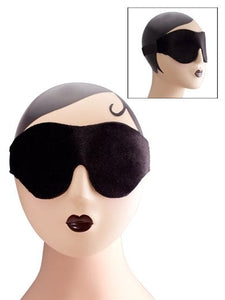 This soft and comfortable Blindfold is just the thing to take your sensation play to the next level. The elastic band allows for a snug fit without putting undue pressure on the eyes and its simplicity makes the Soft Blindfold great for beginners, those on the go, or couples looking to add a little kink to their play.

Soft Blindfold
Black fabric
Stretches up to 26"
Animal product-free -- You might be surprised at how many products contain animal products. You can be sure that items that earn this leaf aren't made with any.
Recyclable Packaging/Materials -- When the package and/or material for your toy can be recycled, you can reduce the impact of your purchase on the environment.
Made in the USA -- Many sex toy and products are produced overseas. Choosing one that's manufactured and assembled in the United States reduces shipping and has a lower carbon footprint.
Learn about our Ecorotic® Rating Criteria.

Sportsheet, Sportsheets, Sport Sheet, Sport Sheets