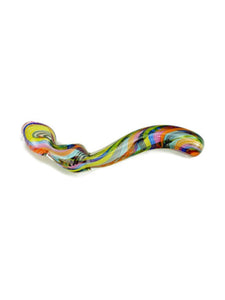 Some toys are made to fit in while others are simply meant to stand out, and the Spectral is definitely one of a kind. Each individually made glass toy is wonderfully unique, so sizes and colors/patterns will differ from piece to piece, and the items pictured here are some examples of the beautiful range of styles that the Spectral comes in. They are all customized for optimal G-Spot stimulation, and can be warmed up or cooled down for added sensation. While some glass toys are made of a strong pyrex which adds to their durability, Spectral's distinctive design is a bit thinner and should be kept away from extreme temperatures and hard floors. So if you're searching for a toy that doubles as a piece of art, or just a special glass piece that's as unique as you are, then Spectral is ready to be your new best friend.
Spectral Glass Dildo
Multicolored Soda Lime Glass.
10 1/2" long x 7/8" to 1 5/8" wide (25.4 cm long x 0.875 cm to 1.625 cm wide)
ALL glass items vary in color and size -- length and width -- due to them being handmade items.
Please refer to our Returns Policy for this item.
Have sustainable sex! Go Green with Good Vibrations earth-friendly  Ecorotic™  collection, all-natural and organic products, as well as longer lasting items that have less environmental impact, such as toys made from superior materials and rechargeable vibes.
Good Vibrations' buyers work directly with independent glass blowers working in the United States to create the pieces available on our website and in our stores. We choose to support these artists rather than mass importers due to quality practices overseas being harder to evaluate. Cottage-industry artisans who make erotic products in glass take extra care as they know these items will be used as sex toys. They bring their superior processes, skill and knowledge of materials to the manufacturing of these useable art objects making sure there are no uncomfortable ridges or imperfections that might lead to breakage. The result of this care and craft are a range of products we are proud to offer - elegant, sensually pleasing, and safe to use. As always, care should be taken not to drop glass toys on a hard surface; if your dildo or plug is dropped, knocked against something rigid, or chipped, please do not continue to use it for insertion. But don't fret - it's still a beautiful, sexy, objet d'art! For more information regarding materials read Sex Toy Materials.
Keywords: Glass Dildo, S-Curve, S Curve