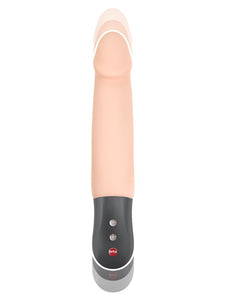 Slim and submersible this waterproof thruster pleasures through motion rather than through vibration. Featuring a smooth, velvety silicone shaft with a penis-shaped tip that sports a slight curve and a corona-like ridge that can provide g-spot stimulation. Try it hands-free--it thrusts and pulses on its own (you may want to set a pillow for it to thrust back against, which allows you to focus the depth of stimulation you want), or add clitoral sensations with a vibrator, cunnilingus, or your own hand. It's slimmer and more lightweight than other thrusters. With 7 speeds and 3 rhythm settings, you can get specific about the kind of thrusting you want! Press FUN button to begin; just hit the – button to lower or + to increase its intensity and rhythm settings. Easy to turn on/off; press the FUN button for half a second to turn it on, then click FUN again to turn the toy off. Featuring a simple-to-use travel lock (to lock, press – and - simultaneously; to unlock, do the same. In both cases the buttons will blink and the unit will buzz briefly). This thruster is charged via USB; the initial charge takes 6-8 hours, yielding 45 minutes of continuing play on the highest setting. Use with water-based lubricant; clean with mild soap and water.
Designed, produced and packaged in a clean, safe factory in Germany. Regulated to ensure products and materials comply with EU standards for safety, health & environmental impact.
Please Note: Because the Stronic technology uses magnets, it should not be used by or with anyone with a pacemaker.
Please Note: This item is not eligible for discounts or promotions.