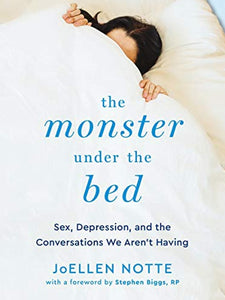 The Monster Under the Bed: Sex, Depression, and the Conversations We Aren't Having
by JoEllen Notte

A practical exploration of how to navigate sex and relationships while coping with depression.

Almost everyone has had some interaction with depression. Whether it's you, a family member, a friend, or a partner who is affected, depression has the potential to touch us all. Even as discussions around depression become more prevalent in our lives, many of us still don't know how to process depression becoming part of our love life. The less this issue is addressed, the more it can become the monster under the bed. This books proves a powerful educational piece in proving that having successful relationships and satisfying sex with depression is possible. JoEllen Notte helps you understand how sexual function is affected by depression and what keeps us from effectively addressing it with ourselves and partners. Heavily informed by the author's extensive research, which includes surveys of over 1,000 people and interviews with close to 200, this book is truly the first of its kind. With practical tips and real-life examples, this is both a guidebook for people with depression and for the people who love them, as well as a reference tool for mental health professionals. 2020, 264 pages.