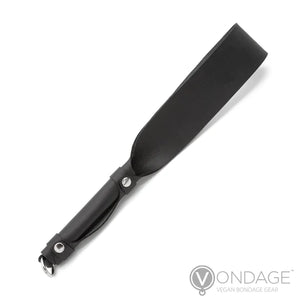 Sometimes handing out discipline calls for the unique texture and force of leather — or something very close to it. The beauty of our Vondage collection is that the vegetable microfiber we use gives you the special feeling of real leather without any animal products. There's no better way to put that to the test than to heft this double-belted slapper in one hand and bring it down on a tender, willing bottom that's just begging for some punishment.
At 2.5" wide, the Vondage Slapper's strap will not only be felt, but heard by all when you bring it down. It takes very little effort for the two layers of material make a resounding CRACK that reinforces your authority — and care — for your sub, no matter how naughty they've been.
Product Details:
• Total length: 17in (43.18cm)
• Slapper width: 2.5in (6.35cm)
Safety, Care & Usage: With a damp washcloth and hand soap, rub-down the vegan microfiber material and dry completely. Do not expose material to excessive heat.
Note: This item is produced in-house by our leather team in Los Angeles. In-house items display as "In Stock," and in a majority of cases we do have current stock on hand, but if not, the items will be made to order for you, and our customer service team will notify you promptly regarding any anticipated wait (usually just a few days). You will have the option to cancel if you do not wish to wait. If other items in your order are available immediately, the order may be sent in multiple parts