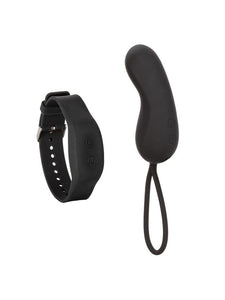 This quiet, quality waterproof bullet vibrator comes with a remote control on an adjustable 9" wristband that buckles closed--discreet and convenient, it looks like a fitness tracker and allows for hands-free use to a 32-foot range. It's a great option for those looking for a remote-control toy that can leave your or your partner's hands available for doing other delicious things. This set could also work for in-public play, depending on the volume of your surroundings.
The bullet is curved for comfort whether it's being used internally or externally; its convenient silicone cord makes for easy retrieval when used vaginally. (Not intended for anal use.) Both the remote and the bullet have two-button controls--one button for on/off, the other for controlling the 12 functions of vibration--and both are USB rechargeable. (Insert the charging pin all the way into the self-sealing port; on the remote, it's located on the side of the control panel, and on the bullet it's on the back below the control buttons.) 180 minutes of charge time yields one hour of play. The memory chip resumes on the last function used.
Use the bullet independently of the remote if you wish. To turn on, press on/off button and hold for three seconds. The indicator light will come on. Then use the function button to scroll through all the vibrational modes. When using the remote, press on/off button to turn on; the indicator light will come on. Then press the function button to scroll through three intensity levels and nine modes of pulsation and escalation.