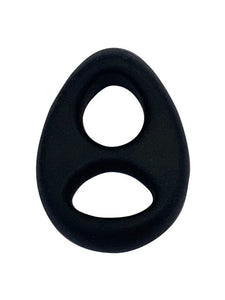 This unique "liquid silicone" ring is super-comfortable and hypo-allergenic--it's a great choice if you've found other rings too stiff or insufficiently stretchy. Long-lasting Zenith is stretchy but strong, supple and ultra-soft to the touch. It snaps back to its original shape after being stretched, plus its thickness ensures you won't pinch your skin when you take it off and gives it extra durability.

Designed with two super-stretchy holes rather than just one; one ring is for the shaft and the other can be placed around the testicles for added stability, pressure, and sensation. Wear it in multiple ways: try a vibrator in one of the holes, or angle it so that both holes fit around the shaft for double the sensation and pressure. Zenith's unique design allows for a more exact fit, and easier removal, than many other cock rings. Made without phthalates, its material is easy to clean and keep clean; it's odorless, tasteless, and cannot harbor bacteria or fungus. It's temperature-resistant too! Excellent for beginners as well as experienced ring users.
2.75" x 2" and stretches to approx. 6" x 4"