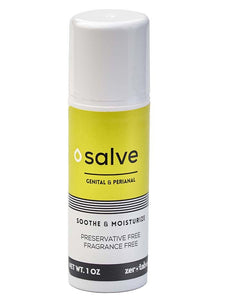 Calm and soothe inflamed skin after a shave--or a busy night in the bedroom! Zero Taboos Salve supports recovery of minor wounds or inflammation, as well as care for hemorrhoids and fissures, all while maintaining a healthy skin microbiome with this salve. Soothe/Salve contains preservative-free gorgonian extract that works to relieve irritation. Designed to be used on genitals, it's fantastic anywhere on your body.

A healthy body is an ecosystem (our "microbiome")--many different species of native bacteria maintain our overall health. Overuse of products like antibacterial soaps, hand sanitizers, steroids, and antibiotics can wipe out good bacteria along with the bad. Zero Taboo minimizes preservative use, adds prebiotics (good bacteria food that opportunistic bacteria cannot digest), and avoids harsh surfactants or harmful antibacterial ingredients. Clean and care for the genital and perianal areas of the body without destroying the good bacteria along with the bad: If we don't take care of our bacteria they can't take care of us! No animal testing; vegan; gluten- and dairy-free, fragrance-free, paraben-free. 1oz.

Ingredients:
Evening primrose oil (~50%).
Raw, grade-A shea butter (~15%).
Algae oil (~15%).
Myrica flower wax (~9%).
Gorgonian (Sea Whip) extract (in caprylic/capric triglyceride) (~10%).
Grape seed extract in sunflower oil (less than 1%).
Vitamin E (less than 1%).